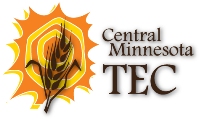 TEC is a three-day retreat weekend based on the Paschal Mystery: the death and resurrection of Jesus Christ. TEC originated as "Teens Encountering Christ" in 1965, as a retreat experience for high school students. Central Minnesota TEC (CM TEC) began in 1978 and is one of the largest TEC centers in world. Although the format of the retreats is still the same, CM TEC changed its name to "Together Encountering Christ" to better reflect the presence of both teen and adult participants on the weekends. Participants experience the message of the Paschal Mystery of Jesus Christ through participation in music, discussions, talks, prayer, Scripture, liturgy, and celebration. A CM TEC weekend works to build spiritual growth through participation in group activities. Although some time is given for prayer and reflection, the emphasis throughout the weekend is on group participation.

Retreats are open to both adults and youth who are 16, preparing for Confirmation or a junior in in high school. Weekends are predominantly staffed and attended by Catholics, but non-Catholics are welcome and do participate.

To sign up for a weekend or to learn more about CM TEC, please visit CMTEC.org or contact the parish office at 763.757.6910.